The Royal Klobasneks are dedicated to preserving the traditional American polka sound of the 1920s, 1930s, and 1940s for modern audiences. Closest in sound to the 'Dutchman-style' bands popular in the American midwest, the Klobasneks have a lively sound that always get the crowd going. They feature a repertoire steeped in Czech, German, and Austrian music, as well as great traditional American polkas, waltzes, and pop tunes.

After years of playing polkas and ethnic music for restaurants, dances, and events, Matt decided to put together a band, so in the summer of 2010, Matt Tolentino assembled a 7-piece traditional polka band. Much like the Singapore Slingers proved a success at adapting his music for full orchestra, the Royal Klobasneks quickly found work preserving the traditional American polka sound for listeners and dancers alike.
UPCOMING SHOWS
September 24th - 25th, 2021
McKinney Oktoberfest
The Royal Klobasneks return to McKinney for this fun and festive local Oktoberfest celebration, one of the best in Texas - not only can you enjoy a festival with all the trimmings, but you can check out all the shops and restaurants that old downtown McKinney has to offer. And it's FREE!!
September 24th - 5:00 pm, September 25th - 11:30 am
111 N. Tennessee St., McKinney, TX 75069

October 3rd, 2021
Chatham Hills Oktoberfest
Westfield, IN 46074
The Royal Klobasneks are playing a private Oktoberfest today.
October 9th, 2021
Lebanon Oktoberfest
Matt Tolentino and his Trio will be performing for the Lebanon Oktoberfest - join us for festive melodies, craft beers, good food, kids activities, and much more.  
Mulberry St., Lebanon, OH 45036
*October 9th, 2021
Celina Oktoberfest
Enjoy authentic food and a bountiful selection of imported and locally brewed craft beers, as well as music, dancing, contests, and other special activities. Band kicks off at 1:30 pm. 
302 W. Walnut St., Celina, TX 75009
*October 16th, 2021
Beaumont Oktoberfest
The band heads back down to south Texas to help bring a little Oktoberfest joy to the good folks of Beaumont. Enjoy a great neighborhood Oktoberfest in Rogers Park - and make sure to grab a beer and a brat! Performance time TBA - check back for updates. 
1455 Dowlen Rd., Beaumont, TX 77706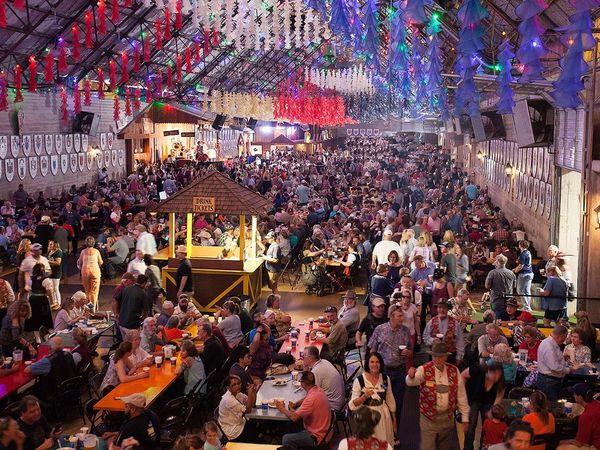 November 12th - 14th, 2021
Wurstfest
Wurstfest is back, and so are we. We're always so pleased to wrap up our Oktoberfest season with a trip to New Braunfels, and after last year, we can't emphasize that enough! Wurstfest celebrates 60 years this year, so come see what's new. As for the band, we'll be playing in the Stelzenhaus for your listening, drinking, and dancing pleasure.
164 Landa Park Dr., New Braunfels, TX 78130
* denotes performances without Matt... but the same great music!
The Royal Kloabasneks are proud to announce the arrival of their brand new CD! "Here We Go!" is the band's first CD - now available for purchase.

Polkas, waltzes, and much more - great old time, traditional music for your listening pleasure.

1. Herz Schmerz 
2. Helena Polka
3. Tulips From Amsterdam
4. Die Fischerin Vom Bodensee
5. Bummel Petrus Schottische 
6. A Night In May
7. Hopeless Polka
8. San Antonio Rose
9. Les Sirenes
10. Repete Polka
11. Red Wing
12. Blue Skirt Waltz
13. Cherry Pickers Polka
14. Red Head Polka
15. Are You Lonesome Tonight?
CDs are $15. Visit our
CD Baby site
or iTunes to purchase and download your copy of the album.
Physical copies are also available - email Matt@MattTolentino.com to order yours.