The Matt Tolentino Band brings the sounds of hot jazz and swing to dances, corporate events, clubs, restaurants, house parties, weddings, and just about any celebration where lively music is needed. Whether you're looking to host a Gatsby party or a swing dance, the Matt Tolentino band is here for you. No distance is too far, and no event is too small. We believe in bringing you the best in 1920s and 1930s jazz and pop.

The Matt Tolentino Band is available in any configuration you desire; traditionally a  4-piece band, we can go as high as 7 musicians or more at your request! Since actions speak louder than words, we invite you to peruse our videos.
The band is popular with captive audiences and dancers alike, and is equally at home putting on a show or simply adding a little something to an evening. The group aspires to bring a high level of authenticity with every show with instruments, drums, attire, and even microphones from the era, not to mention a repertoire of over 600 songs. With Matt's arsenal of clarinet, saxophone, accordion, vibraphone, and piano, we can do just about anything. The band is available as a duo up to 11 pieces.

Drop a line on the 'Contact' page, and we hope to see you soon... and check us out on Facebook or on Instagram - @MattTolentino1927
March 4th, 2023, 7:00 pm
Japp's OTR
The Matt Tolentino Trio returns to Japp's - join us for an evening of hot jazz, ragtime, and early swing as you enjoy historic craft cocktails as only Japp's can do. 
1134 Main St., Cincinnati, OH 45202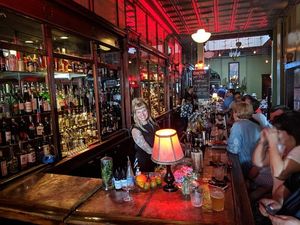 March 25th, 2023, 7:00 pm
Private Event - National Vietnam War Museum Fundraiser
Weatherford, TX
May 5th, 2023, 6:00 pm
Private Event - Wedding
Fort Worth, TX
June 10th, 2023, 6:00 pm
Private Event - Wedding
Arlington, TX
June 26th, 2023, 6:00 pm
Jazz at the Park
The Matt Tolentino Trio will be taking part in the Monday night concert series at Washington Park - enjoy great tunes in a festive outdoor setting... and it's free!
1230 Elm St., Cincinnati, OH 45202